Backed Up Into Dawn
Exhibition featuring GUILLOTINÆ WannaCry, Act Green: Savage Sauvage Salvaje set within an installation environment composed of taxidermy, photographs and other sculpture (details below),
SIN AGUA, and dawn_chorusi: LA PREKUELA
Tufts University Galleries (School of the Museum of Fine Arts at Tufts)
2022



This exhibition featured an interview with scholar Lorgia García Peña which you can view and download here.

From exhibition text: Puerto Rican-born, Oakland-based conceptual interdisciplinary artist Sofía Córdova works with performance, music, video, photography, sculpture, and installation. Her expansive practice addresses how race, gender, class and borders lived under late capitalism present tools to mobilize as well as barriers against radical imaginings of a collective and liberatory future. This gallery presents the commissioned installation GUILLOTINÆWannaCry Act Green: Sauvage, Savage, Salvaje, part of a larger series of video and performance works with original electronic music scores, set within color-coded installation environments. Each act takes place in a near-future, where the work of making revolution is contextualized within global uprisings, the destabilization of governance, and climate-related events that scramble technological systems worldwide.

Scripted and filmed in the summer of 2022, Act Green: Sauvage, Savage, Salvaje works with "wilderness" as collaborator, along with dancers Rashaun Miller and Meg Jala, for an installation and film that builds upon histories of Cimarrónes and Indigenous people organizing in fugitivity across the Caribbean and the Americas and draws upon scholars, writers and musicians such as Alice Walker, Cedric Robinson, Denise Ferreira da Silva, La Lupe, and Combahee River Collective. This immersive environment of speculative climate devastation includes real and fabricated elements, including artifacts from the environment where the video was filmed, 3-d scans of seeds, leaves and rocks made into oversized sculpture, taxidermied birds mutated into green in response to the ravages of human activity on our planet, and performers enacting banal exchanges of touch in order to be together. Utilizing the entangled relationship of poetry, weaponized technology, and political agency, Sauvage, Savage, Salvaje invites us to witness and imagine a vision of our world's present-future.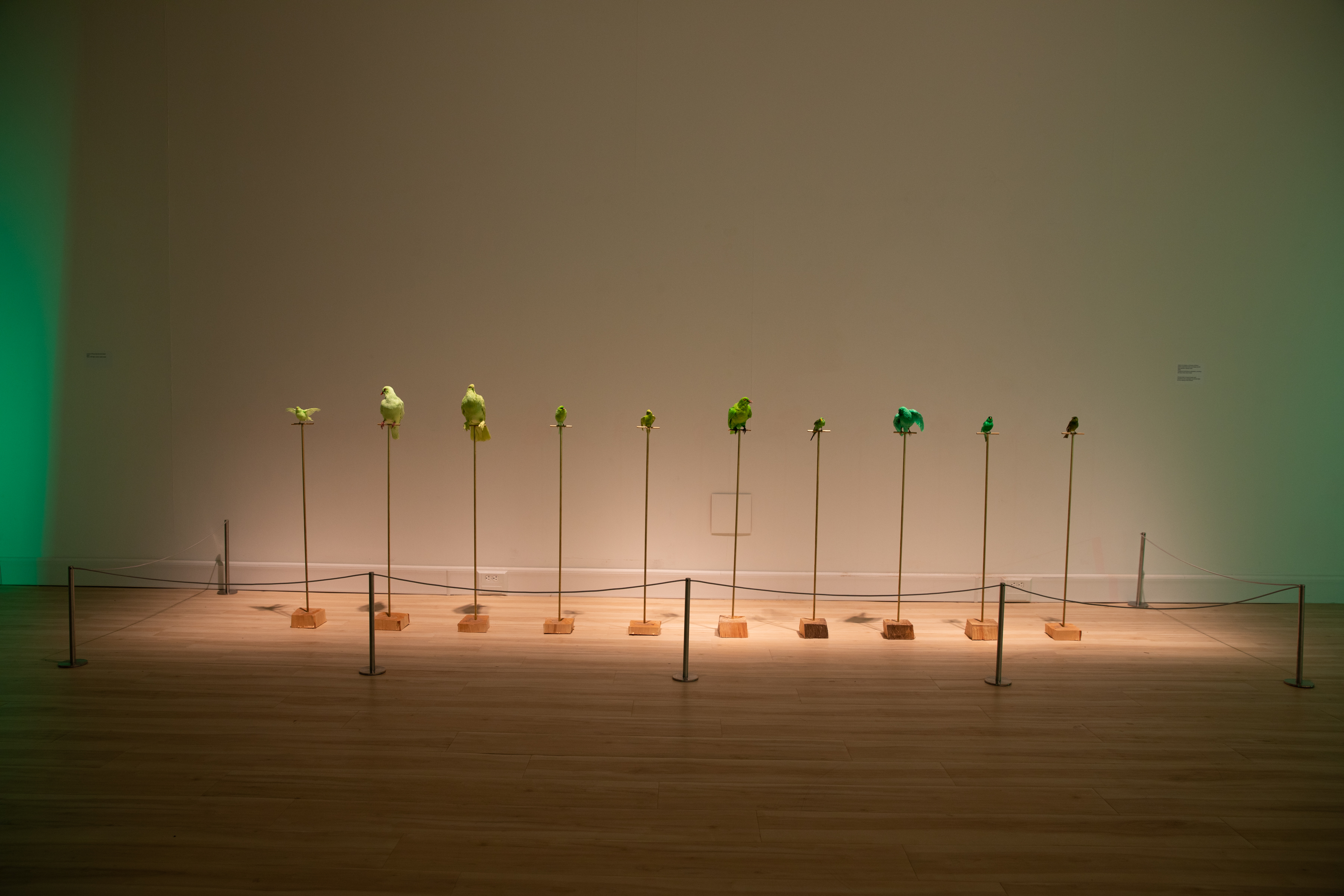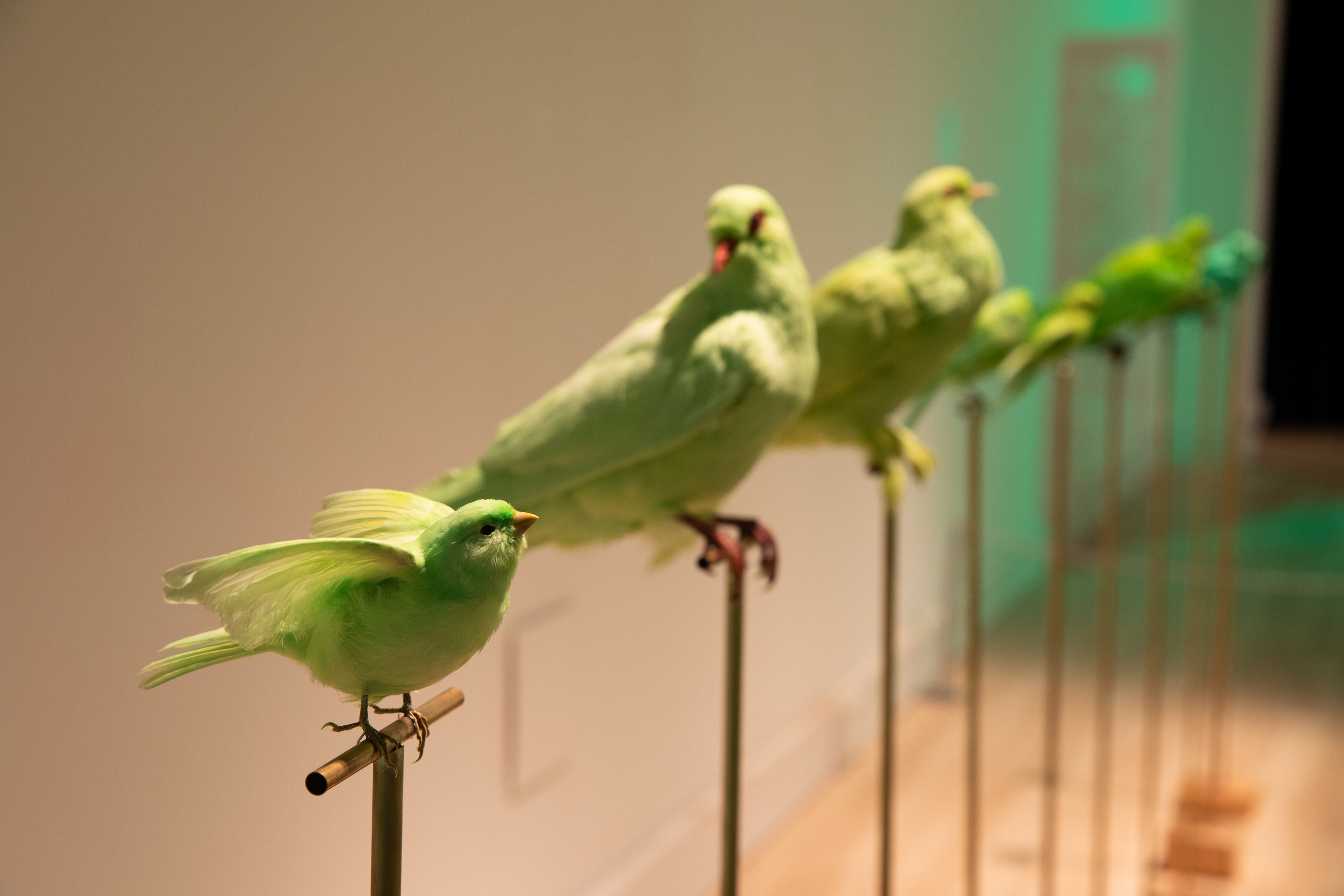 Works above:
A Touch Could Be The Spark, How Will I Recognize You? ( Leg-up + Letter ) 2022
Inkjet prints on dyed panel
image size: 45 x 68 "

A Cast of Thousands (Yagrumo Leaf) - in background
2022
3D Scan, 3D print (thermoplaster polyester), resin, construction meshing, zip ties, paper, birch tree, fiber-reactive dye, rock tripe lichen dye , LED light, metal screen

A Cast of Thousands (Quartz)
2022
3D Scan, resin, LED light, custom metal screen

GUILLOTINÆ WannaCry: Act Green: Savage, Sauvage, Salvaje
2022
Video, color, black & white, original sound composition
34:35

Green is A Solace, A Promise of Peace (where small birds hide and dodge and lift their plaintive rallying cries)
2022
Taxidermied birds (Doves, parakeets, canaries) hair dye, brass, birch wood


Sofía Córdova's moving image works consider the merging of science fiction and reality alongside climate change and migration, the erasure of Indigenous knowledge, and corporate land extraction. On view in this gallery are SIN AGUA i: expectation crowned by its own desire (2017); SIN AGUA ii: subtle suffering (2017-2022), and SIN AGUA iii: where thieves go after death (2017-2022), a series of fragmented, impressionistic video-essays with a score composed from field recordings that range from Indigenous flute melodies, car alarms, wind, bird songs and conversations along the artists travels through the desert.

In the back gallery is dawn_chorus i: LAPREKUELA (2016–21). Shot in the woods of Western Finland, the deserts of New Mexico, and the Driftless Region of southwestern Wisconsin, this series is in conversation with the poetry of Julia de Burgos, the Kalevala, Ursula K. LeGuin's Tehanu, and Clarice Lispector's Agua viva, and presents a possible history of our planet in the next 500 years through the lens of a failed cyborgian cult.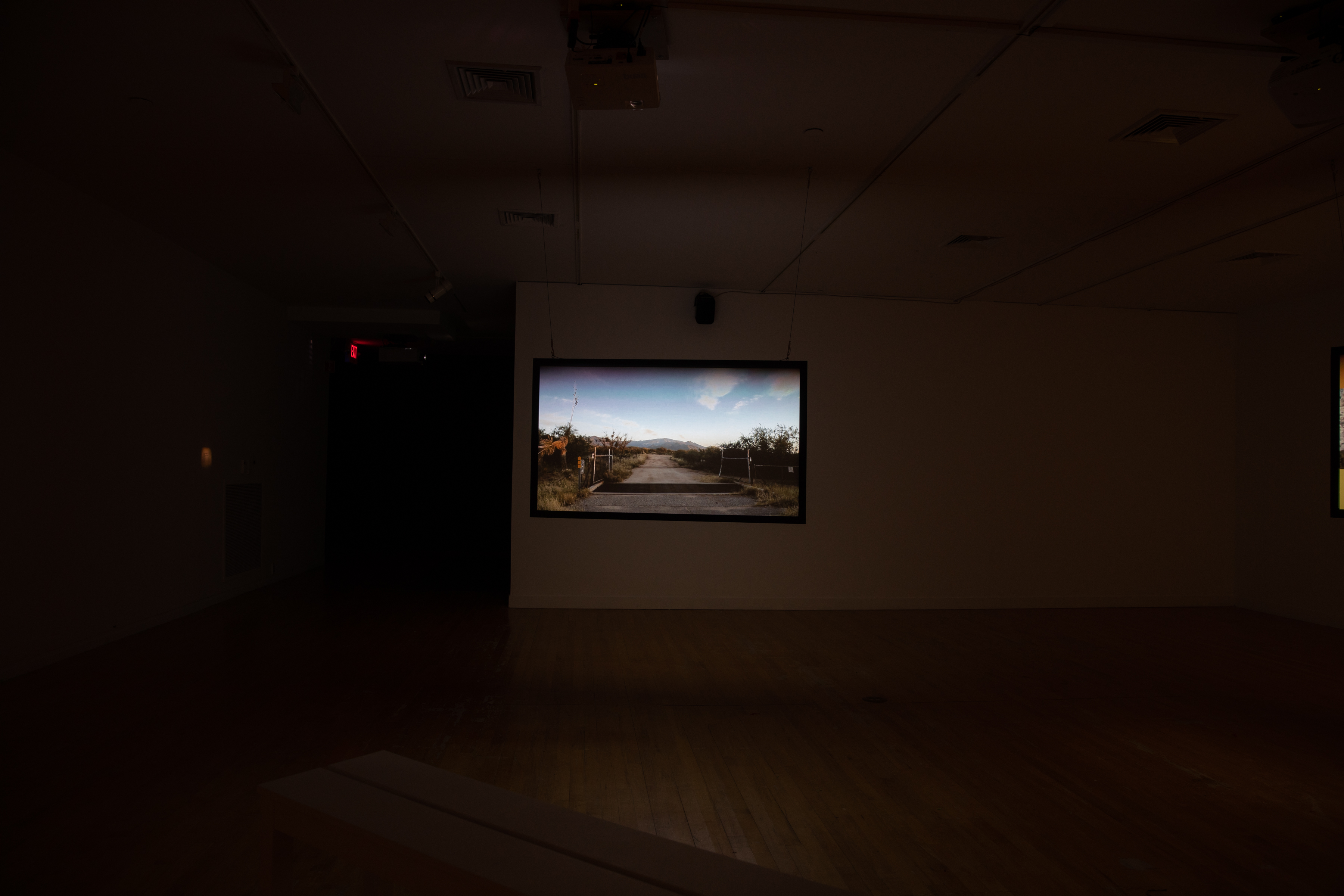 SIN AGUA i. expectation crowned by its own desire,
2017
Video, color, original sound composition
16:07

SIN AGUA ii. subtle suffering
2017-2022
Video, color, original sound composition
19:04

SIN AGUA iii. where thieves go after death
2017-2022
Video, color, original sound composition
22:34


dawn_chorusi:LA PREKUELA
2016-2021
video, color, original sound composition
45:00